An adjustable kettlebell is a new piece of gym equipment that allows you to achieve a full body workout in under 20 minutes. The ability to add or remove weights ensures you always have the correct weight to suit your kettlebell workout. Whilst fixed weight kettlebells are great for individual excercise sets, you often need a complete set which can be expensive. Adjustable kettlebells are cheaper and more convenient for home use.
Whether you choose to buy an adjustable kettlebell or a fixed weight kettlebell set, it can be confusing knowing which one is right for you. At Adjustable Kettlebell Reviews you will find reviews, information and kettlebell workout guides to improve your kettlebell training. We have outlined all of the factors you need to consider to help you buy the best adjustable kettlebell. We have reviewed all of the popular kettlebell brands, including: Bowflex, Stamina, MIR, Rocketlok, Titan Fitness and Power Block.
Best Adjustable Kettlebell Review 2016
Adjustable Kettlebell Introduction Guide
An adjustable kettlebell has a mechanism that allows you to control the kettlebell weight. To adjust the weight a user adds or removes weight plates. Each weight plate weighs between 5 and 10 pounds. The handle of a kettlebell weighs approximately 5 pounds and represents the minimum the kettlebell can weigh. For example, you can still work out with just the kettlebell handle, even after removing all of the weight plates. The CFF Adjustable Russian Kettlebell will give you a good idea of what an adjustable kettlebell looks like without weight plates.
In our reviews we tend to lean more towards adjustable weights since they make it affordable for everyone to own a set of kettlebells at a convenient price for their home gym. We have also covered extensively all the standard kettlebells in the market to help our readers make informed choice. If you are looking for information, reviews and comparisons of kettlebells, you will find our reviews and articles to be helpful. If you have questions, corrections or suggestions leave us feedback.
If you are new to kettlebell training you may find my kettlebell workout guide a good place to start.
Benefits of Kettlebell Training
Kettlebells are a great addition for any workout routine. They'll help to build and tone muscles, burn fat and improve your fitness. Traditional workout routines focus on individual muscles, meaning you need to spend hours working out. Kettlebell workout routines work the entire body, helping you reach your goals in under 20 minutes. No matter what your fitness level are or whether you are training professionally or for fun, you can easily integrate kettlebell workouts into your routine. Adding a kettlebell to your training will help you reach your goals quicker.
Training regularly with a kettlebell will:
Improve your cardio fitness: You'll combine cardio work and strength training within the same routine. No more spending an hour weight training and another hour on a boring running machine.
Reduce body fat: Kettlebell workout routines are high intensity, meaning you burn through calories quicker than traditional excercise.
Tone muscles: You'll notice an immediate impact on the shape and definition of your muscles. Kettlebell training tones all muscles within the same routine.
Increases strength: Lifting and swinging a kettlebell regularly will improve your core body strength.
Improve balance: The way a kettlebell is designed encourages routines that work the whole body. Working areas such as your ankles, legs, back and core will improve your stability.
Helps to reduce injury risk: Working muscles in isolation increases your injury risk, both during and after excercise.
Two types of Kettlebell
There are two different types of kettlebell:
Fixed Weight Kettlebell (Standard Kettlebell) – Sold individually or as part of a set. Each kettlebell is weighted differently and can range from 5 to 80 pounds plus.
Adjustable kettlebell – Enable you to add or remove weights to suit your routine. Adjustable kettlebells come in different designs, some use pins to secure the weight plates while others have a complete enclosure to hold the weight.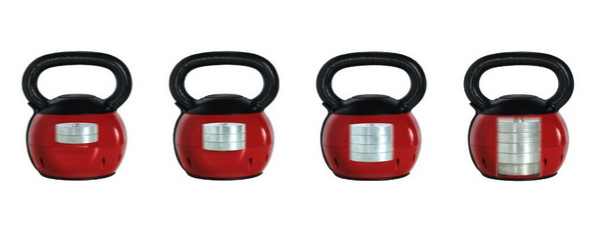 Adjustable Kettlebell Benefits
Adjustable kettlebells are a great choice if you're serious about kettlebell training. The ability to add or remove weights ensures you always have the correct weight setting for a routine. This enables you to add more and more kettlebell workouts to your routine, taking your training to the next level.
If you're working out from home with limited storage space, adjustable kettlebells take up much less space. Why purchase 7 individual kettlebells for $400+, when you can get them all in one for half the price?
Fixed Weight Kettlebell Benefits
It's more common to see fixed weight kettlebell sets within professional gyms. This is a matter of convenience, by saving people having to manually adjust weight settings. Other than this, the shape of a fixed weight kettlebell is more traditional and often less bulky. This can make swinging a fixed weight kettlebell smoother and more natural.
Within the home environment, beginners often start with one or two fixed weight kettlebells. Individual weights are very cheap to buy and allow users to master a handful kettlebell routines. The downside is that they are very limiting as users become more advanced.
Summary
Whether you're new to kettlebell training or not, my advice would be to start off with an adjustable kettlebell. Standard kettlebells are good for beginners but as you progress with kettlebell exercise you will likely need to adjust the weight setting. Buying a standard kettlebell set is very expensive. Adjustable kettlebells offer you an affordable alternative to own a set of weights equivalent to bulky set of standard kettlebells.
When I started kettlebell training I purchased Cap Barbell nonadjustable kettlebell which is still a great choice. I later found out that I needed to add more weight to improve my weight resistance. I decided to try out adjustable weights and purchased Stamina 36 pound adjustable kettlebell. It is one of the best kettlebells, I have ever owned.
Adjustable Kettlebell Buyer's Guide – Factors to Consider

There are many adjustable kettlebells in the market from different manufacturers. At least I know about 20 different adjustable kettle weights that you can buy from Amazon and another 10 weights from other online stores.  When choosing a kettlebell, there are a number of things you should consider. Listed below are the most important considerations:
Weight Range
Kettlebell weights range from as low as 5 pounds (Rocketlok adjustable kettlebell), all the way up to 80 pounds (Mir Pro adjustable kettlebell). For this reason, manufactures tend to offer ranges applicable to the mass market. For example, a user training with an 80 pound weight is unlikely to benefit from a 5 pound weight setting. Common weight ranges are: 5 – 15, 10 – 40 or 16 – 36 but all manufacturers offer different options. One of the best selling models is the PowerBlock Kettle Block which has a weight range of 5-20 lbs. Weights come in increments of 4 i.e. 5, 8, 12, 16, 20 lb.
Lookout for manufactures offering the same model in different weight ranges. Rocketlock offer the Rocketlok 14-20lb Kettlebell and the Rocketlok 20-36lb Kettlebell. The 14-20 lb is a great choice if you choose to focus on stamina and body toning, whereas the 20-36 lb will help build strength.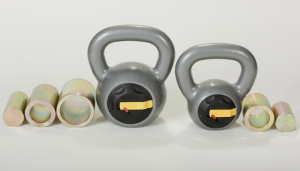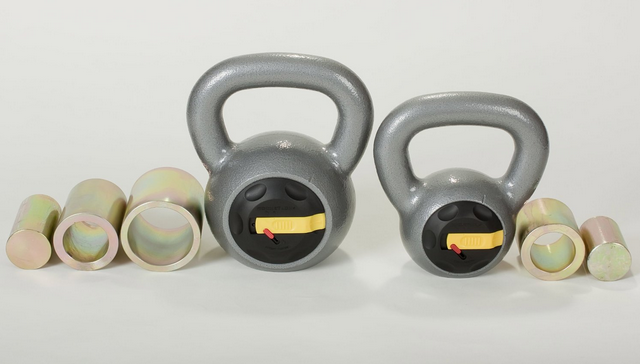 Design
Manufactures try to make their models as distinctive as possible by altering the shape, coating and color. Lookout for bells with a small base as these can tip over easily making some exercises difficult. When it comes to adjustable kettlebells, the standout difference is the way of holding weights within the kettlebell.
There are two notable designs:

Weighted Cylinder Design


Weighted Plate Design

The Rocketlok Kettlebell uses cylindrical weights that fit in as shown in the image, while the Stamina Kettlebell uses weight plates that stack together.
Of course it's all down to personal preference, but having tested various models, the weighted plate design is my favourite. I found it less fiddly.
Locking Mechanism
Aside from being easy and safe to use, the weight locking mechanism is the one part of an adjustable kettlebell than can wear with time. For this reason, my advice is to lookout for a lifetime guarantee. Generally the simpler the method of adjusting weights the less than can go wrong over time. Lookout for a kettlebell with a minimal amount of components; locking screws in constant use are likely to wear out over time. The PowerBlock Kettle Block has no locking screws, weights are simply pulled out or pushed in.
The most common method of adjusting weights is via a locking device on the top of the kettlebell. To adjust the weight setting, you rotate a lever to unlock the mechanism. Next, you add or remove weights before rotating the lever back to the locked position. Check out this how to adjust the kettlebell weight setting video.
Color and Coating
The color you choose is purely down to personal preference. The most important aspect of the color is the coating. The main job of the coating is to protect the kettlebell from chipping if accidentally dropped. An adjustable dumbbell is a one time purchase so it is nice to keep it looking in peak condition. Some dumbells come with a rubber bottom to protect from accidental drops.
Top Tip: Lookout for a smooth coating otherwise it will affect the way the bell moves through your hands, resulting in blistering.
A great looking kettlebell with a hard wearing coat is the CFF Russian Kettlebell. For a more traditional look, checkout the Stamina Adjustable Kettlebell.
Handle

Kettlebell routines can be strenuous. This means it is important to find a kettlebell with a comfortable handle. A comfortable handle will also reduce injury risk. Here's what you need to consider: The handle should be large enough to fit two hands snuggly. If you have particularly large or small hands, lookout for the right sized handle for you.
For kettlebell traditionalists you may note that original kettlebells were not designed for two hands. Whilst this is true, most modern kettlebells come with handles large enough for two hands. Our tip is to look for a handle that will enable you to complete routines comfortably.
The handle should also be smooth since most routines involve a swinging motion. A smooth handle will reduce the risk of blistering.
Remember that the weight of the handle counts towards the overall weight of the kettlebell. Most adjustable kettlebell handles weight about 5 pounds.
If you are worried about sustaining an injury whilst training, the following products will help:
Material
Steel or cast iron is the main material of a kettlebell. You can still buy a fixed weight kettlebell made from cement, but this is becoming less popular. All adjustable kettlebells have a locking device (usually made from metal) that works better with metal weight plates.
Manufacturer
The manufacturer of a kettlebell is another consideration when you are buying an adjustable weight. Most of the best makers of fitness products tend to provide high quality products compared to new comers in the industry. A strong market leader can also guarantee you a warranty of up to 5 years for the weight. This can build customer confidence when buying the weight since they not only get the value for their money but a long period of warranty.
Price and Offers
One of the benefits of an adjustable kettlebell is the price. Not only are they cheaper than fixed weight sets, models are available to suit budgets big and small. At the top end of the scale you can expect to pay $200. At the time of writing, the most common price range is between $50 and $150. For an up to date price guide jump over to Amazon.
Lookout for kettlebells that come with offers such as Gold's Gym Extreme Kettlebell. This model comes with a kettlebell workout DVD which is great for getting you started. Don't let this be a deciding factor though. There are some great kettlebell for beginners videos on YouTube if you are looking for somewhere to start.
When it comes to price, like anything stick to a budget and only pay what you are comfortable with. In my opinion, $200 is an excellent price for a top of the range model. The difference between high spec and low spec models is the quality of build and a lifetime guarantee.
Adjustable Kettlebell for Women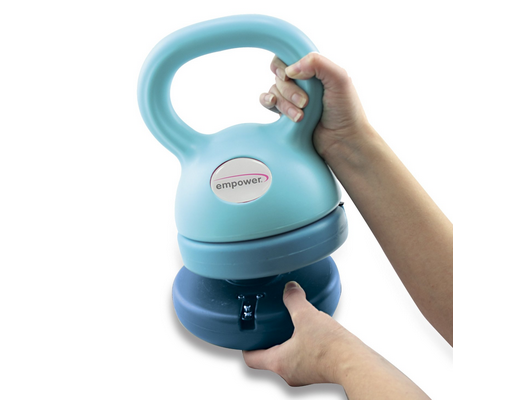 Kettlebells are suitable for both men and women alike. The kettlebell you choose will depend on your current strength levels and your fitness goal. Two popular models for women are the 3-In-1 Empower and the Rocketlok 14-20Ib. Both start at the lower end of the weigh range and end towards the middle. These kettlebells are great for improving fitness and toning muscles.
Top Tip: Consider your fitness goals and current strength levels; lifting something too heavy will result in injury. If you are looking to build muscle, you should consider s different weight range.
Top 20 Best Adjustable Kettlebells in the Market
1) Stamina Adjustable Kettlebell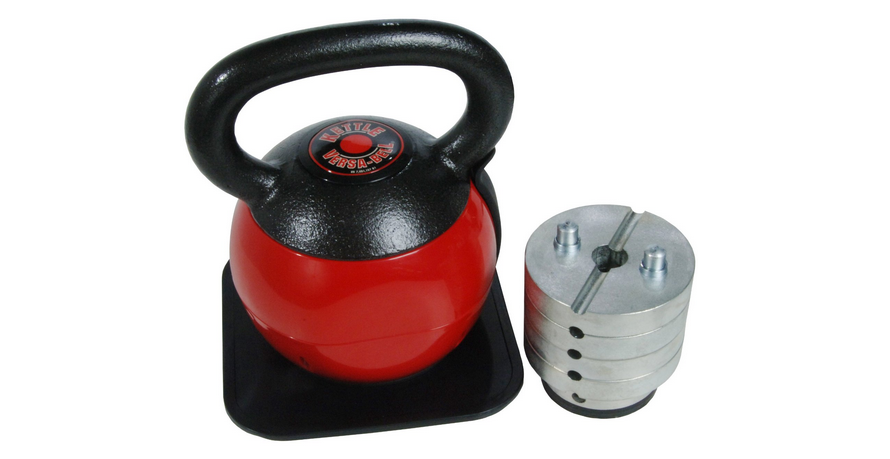 Stamina Adjustable Kettlebell is the best adjustable kettlebell for the money. This adjustable kettlebell can be compared to an entire set of standard kettlebells and comes at a lower cost compared to a set of normal kettlebells. I like the Stamina Adjustable Kettlebell since I own it and have used it since 2013 and buying it is the best workout decision I have ever made. One important consideration when I went shopping for an adjustable kettlebell was the amount of space it would occupy.
Back in the day, I was living in an apartment with limited space and I needed an adjustable weight like Stamina Adjustable Kettlebell since it would take up a small space in my balcony. Today, I acquired a new home and have a big space but still Stamina Adjustable Kettlebell is the best kettlebell for me since it still looks new 2 years down. Let's look in details at the features of this kettlebell and find out if it is suitable for your home workout.

Summary of Features

Stamina adjustable kettlebell has 6 weight levels that are in 4 pounds increments, the weight adjustment is from 16, 20, 24, 28, 32, and 36 pounds. This is a weight adjustment system that is patented and the weight cannot be added beyond 36 pounds. I don't think you need anything heavier than Stamina Adjustable Kettlebell especially for beginners and intermediate kettlebell users.
This adjustable kettlebell from Stamina has a specially designed square base pad holder that acts as the best resting place for the weight. It is unique and very useful since it minimizes the contact of the kettlebell and the floor. This base is also very stable for kettlebell exercises that will require flat bottomed kettlebell. You can comfortably do kettlebell pushups with Stamina adjustable kettlebell
The handle is wide enough as witnessed by my daily double hands kettlebell swings and it is made of cast iron, it's very sturdy and remains in this great condition even after more than 12 months of consistent use.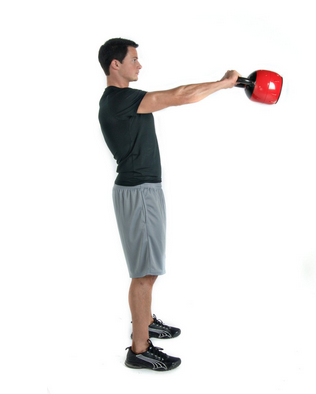 This kettlebell is designed in a way that the weight plates are fitted inside the casing and the exterior takes the traditional kettlebell shape allowing you to undertake any kettlebell exercise, you may come across in the 20 bestselling kettlebell Workout DVDs.
Stamina adjustable kettlebell is designed with a very simple and easy to use weight locking pin that even kettlebell newbies find to be very straightforward.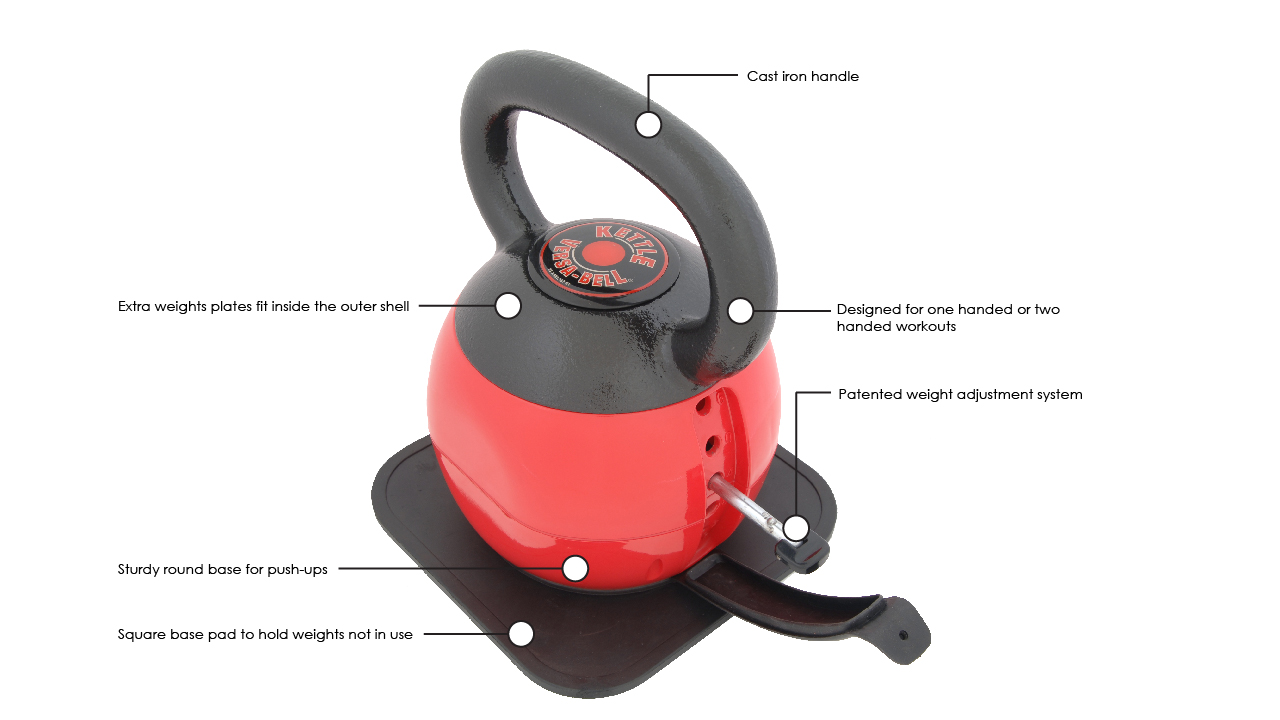 Pros and Cons of Stamina Adjustable Kettlebell
Pros
This kettlebell has owner's manual which makes it easy for complete kettlebell beginners to get started
There is absolutely NO assembly required with Stamina adjustable kettlebell I would rate it as the best user friendly adjustable kettlebell in the market
This weight comes with a 90-day warranty which is a good guarantee for any customer who is not sure whether it is the best adjustable weight kettlebell for them.
Has a cast iron handle that is wide enough to accommodate grip by both hands. This is a very important consideration when buying a kettlebell since you will need to use it for single and double hands kettlebell exercises.
Since I acquired Stamina adjustable kettlebell I build the best weight resistance since the 4 pounds weight increment is ideal for weight resistance and strength building. If this is your workout goal, consider buying Stamina Adjustable kettlebell, 16-36 pounds weight range is such a good range as you will soon find out.
The flat bottom base allows you to use the kettlebell for pushup and it avoids rolling which is a very common nuisance with other non-flat bottom kettlebell. The flat bottom does not also comprise on the traditional kettlebell shape, it has a great shape and the square base pad holder augments its user friendliness.
Cons

The most common concern about this kettlebell is the smell from the rubber. I agree with majority of the users on most online sports store reviews who point out the rubber odor. Although it has this odor with continued use, it fades away. I have also compared it to other kettlebells and its not as bad as others, I am in fact very allergic to stringent rubber smell and I can sneeze the whole day but it has never occurred with Stamina Adjustable Kettlebell.
The other concern with Stamina Adjustable kettlebell is the weight that is relatively large for starters and some women feel it's too heavy for them. I agree with this notion and I would recommend they check out adjustable weights like Rocketlok 14-20lbs Adjustable Kettlebell or Empower 3-1in1 Adjustable kettlebell which are excellent weight for women.
2) Mir® – Pro 83lbs Adjustable Kettlebell (From 10lbs to 83lbs)
Description

MiR Pro Adjustable Kettlebell is one of the best adjustable weights in the market. You can take your training to the next level with MiR Pro Adjustable Kettlebell since it is a remarkable compact full body workout adjustable weight. When you buy MiR Pro Adjustable Kettlebell you get the value equivalent to buying 4 or 5 standard kettlebells. This will save you a great deal of space and money. You will not require kettlebell rack to pack up all those weights.  It is designed with a wide handle that allow you to have maximum and firm grip on the weight as you work out. With MiR Pro you can take on any mild or extreme kettlebell lifts, swings and any other exercises as carefully illustrated by Michael and Susan Skogg in the bestselling kettlebell workout DVD – SKOGG System Kettlebell Workout DVD.
Summary of Features
Designed with a wide handle that is comfortable for 1 or 2 handed workouts.
Has a speed pin lock to quickly adjust weights in and out. Guarantees you maximum safety and stability during workout.
The adjustable weight is in 11lbs increments.
The weight range is from a minimum of 10lbs to a maximum of 83lbs.
You can save money and space and by using the MiR Pro adjustable kettlebell. Why should you even consider buying multiple, bulky weights when you can own just this single kettlebell that is up to 80 pounds in weight.
Mir Pro is highly recommended for CrossFitters, Personal Trainers, and all athletes.
With this weight you can undertake workouts intended to increase strength, endurance, balance and agility, training both the muscular and cardiovascular system with dynamic, total-body movements.
Pros and Cons of MiR Pro Adjustable Kettlebell
Despite the weight begin one of the bestselling in this category, it is helpful for us to quickly focus on its pros and cons to help you make an informed choice. Here are the pros and cons in a summary:
Pros
Has the best weight range for the money. I have not seen any other adjustable kettlebell that has such a weight range for the same amount of money. You can check out the latest price from Amazonand appreciate how cheap adjustable kettlebells can get!
Solid, compact and safe with a very secure lock to ensure you swing the kettle with confidence as you build strength and muscles quick and fast!
Saves you a great deal of money, if you are buying 10 pounds standard kettlebells you would end up spending way too much and still have to buy a kettlebell rack to store up your bulky weights. See the comparison – Adjustable kettlebell Vs Standard Kettlebells.
Cons
If you are an inpatient person, it might be somewhat frustrating since the weight lock is designed for safety and therefore tends to take time to adjust the weight. To sum-up we have researched the best review videos of MiR Pro Adjustable Kettlebell and shared with you below.
3) Rocketlok 24-36 Adjustable Kettlebell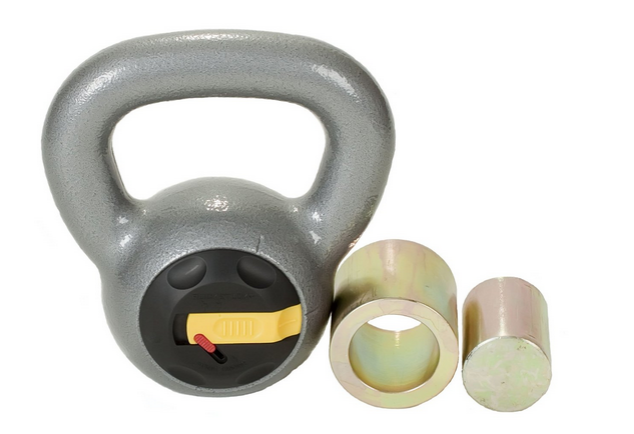 Rocketlok kettlebell is my second favorite adjustable weight after Stamina adjustable kettlebell. The design is unique and very sleek which makes owing a Rocketlok a unique experience. The design is patented and it always comes in the tradition all kettlebell shape helping you maintain your center of gravity as you workout. The body of Rocketlok 24-36 adjustable weight is made of cast steel and the cylindrical interior weights are made from steel too. The cap is molded from polyurethane that guarantees you safety when using this weight. Here is a quick summary of the features:
Summary of Features
This weight is made of solid cast steel body and handle with weighted interior cylinders made from solid steel with a molded polyurethane cap with easy slide locking mechanism keeps weights safely secured.
You can adjust weights from 24 pounds, 28 pounds, 32 pounds and 36 pounds; if you prefer a lighter weight you can consider buying Rocketlok 14-20 lb adjustable kettlebell.
It is one of those adjustable kettlebell that retains the traditional kettle shape
Adding and removing weights is done with bare hands no tools are required
When working out the balance and center of gravity stays consistent at all weight levels.
Let's now look in a summary the pros and cons of this adjustable kettlebell
Pros and Cons of Rocketlok 24-36 Adjustable Kettlebell
Pros
This is the only weight with this design in the market made from a reputable company with rave reviews from previous buyers across all online stores. If you like the design, then you should consider buying it from
Has a safe lock like other reputable kettlebells ensure you work out in peace while maintaining the center of gravity since it comes in the traditional kettle shape.
Cons
We have also researched on the best review videos and shared with you below. We hope this will help you make a better choice when acquiring your own kettlebell.
4) Kettlebud Adjustable Kettlebell – Uses Olympic Plates (5 – 100+ pound)
 Description
Kettlebud adjustable kettlebell is another awesome adjustable weight that you can own and will not frustrate you. I like the sleek design and the way you lock the weight on the kettlebell bar. With Kettlebud adjustable kettlebell you don't have to own many standard kettlebells to increase the weight as you work out. This weight works perfectly since it is designed with a quick release pin that secures the weight plates and allows you to undertake any extreme kettlebell exercises as outlined in the best 20 kettlebell training DVDs or the top 30 free kettlebell workout videos on YouTube. If you are looking for a way to use Olympic weight plates in your workout, kettlebud adjustable kettlebell provides you with the best solution. You can add more than 100 pounds of weight in Olympic plates.   Let us now look in details at the features of this kettlebell to help you make a decision on whether it is fit for your workout regime.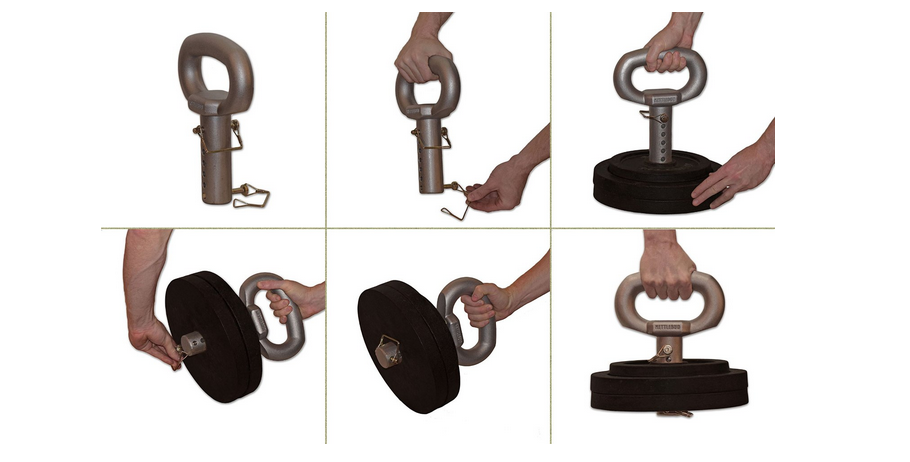 Summary of Features
Kettlebud adjustable kettlebell fits common Olympic weight plates – making it a unique adjustable kettlebell in the market.
It easily adjusts from 5 to 100+ Pounds for all your kettlebell workouts
It first multiple 50 millimeter Olympic weight plates that can range in 2.5-45 pounds sizes that are usually not included
The 2″ handle provides superior control and reduces fatigue even in extreme workouts.
Dual 3/8″ Wire-Lock Steel Pins Hold Weight Securely in Place
The durability of this kettle weight is military grade 356 cast aluminum body and it is light so you can easily carry it from one place to another.
It is designed with a hardened steel quick-release pins for fast weight change and safety
The color of Kettlebud is gunmetal and it is manufactured in the US
This is the most truly scalable adjustable kettlebell you will come across in the market.
The manufacture also cautions users that you should ensure when using this kettlebell ensure both pins are in place for secure functioning.
Let's now look at the pros of kettlebud without forgetting the cons. This will help you make a better decision when placing your order for an Adjustable kettlebell on Amazon.
Pros
Easy and quick to add the weight since it is straightforward unlike other adjustable kettlebells
This is the most scalable adjustable kettlebell you can ever come across. It is only comparable to MiR Pro Adjustable Kettlebell which offers users up to 80 pounds in weight. Unlike Mir Pro, kettlebud allows you to add as much weight as you can with 100 plus weight a possibility for kettlebell enthusiasts.
You can use Olympic weight plates on this kettlebell something that makes it unique in this market segment. There are other weights like the dumbbells that allow use of Olympic weight plates.
Made of high quality and solid metal that accommodates even the toughest kettle workouts. When used together with a reputable DVD like the Skogg System Kettlebell workout DVD, good results are guaranteed.
Cons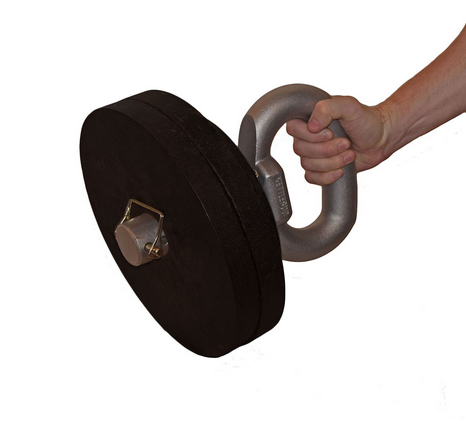 This kettlebell at the time of writing this review is rated a FIVE STAR ON AMAZONand other online fitness equipment stores, the users have not mentioned any bad experience with Kettlebud adjustable kettlebell. If this is what you are looking for check it out on Amazonfor an updated price and the ratings or any new comment from customers.
5) Empower 3in1 Adjustable Kettlebell
Description
Empower 3-in-1 adjustable kettlebell is a weight that every lady who loves working out will find to be fantastic. I regard Empower 3-in-1 adjustable kettlebell to be the number #1 adjustable weight for women. In other words it is the most unproblematic adjustable kettlebell currently available in the market. It is designed with a perspective of capturing women workout needs and can be adjusted from 5, 8 and 12 pounds.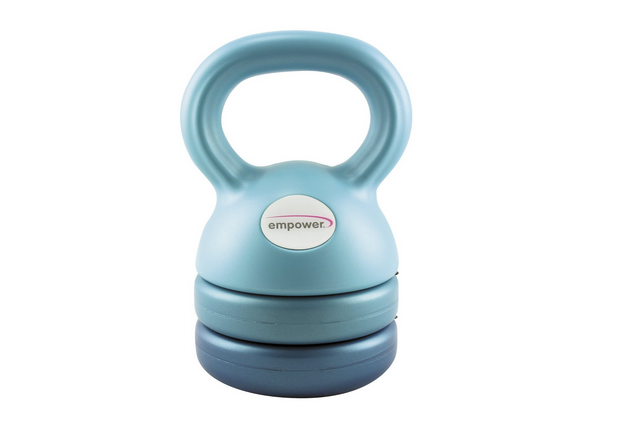 The ergonomic design is also remarkable since it allows the best grip on the handle also ensuring the nails are not damaged during kettlebell workout. At the crown of this ergonomic design, innovative weight adjustment and click & twist patented design is the EMPOWER DVD that is included. With this kettlebell you may not have to buy one of these top 20 best kettlebell workout DVDs. Now let's look in details at the features of this weight.
Summary of Features
Empower 3-in-1 adjustable kettlebell has a click & twist patented design that takes the least time to change the weight.
You can adjust the weight from 5lb, 8lb to 12lb in seconds which makes weight adjustment easy and quick as you work out.
Has comfortable grip- soft touch shell is comfortable on your hands and nails
Designed with an easy-to-use wide grip handle ergonomically designed for smooth, controlled moves that is easier for beginners too.
Comes with Empowers Swing Yourself Fit Total Body Workout DVD includes 3 fun, fat blasting, body sculpting workouts to get you fast effective results
Also includes one sand-filled, 3 in 1 adjustable kettlebell, Swing Yourself Fit DVD workout with fitness expert, Gin Miller and illustrated workout guide
Pros
Click and Twist weight adjustment stands out as the best way to save time when increasing the weight. It will take you the least time for to adjust weight with this kettlebell.
Sleek and grip-soft design that is comfortable for the hands and ensures your nails are intact even after workout
The kettlebell workout DVD is a great bargain since it allows you as a beginner to get started easily without spending so much time watching kettlebell workout videos on YouTube. If you still want to supplement your workout you can check out these top 5 kettlebell workout channels we handpicked as the best on YouTube. We also listed the top 30 best Kettlebell Workout Videos that can get you started immediately.
Gin Miller is the instructor for the fitness DVD which adds a great deal of authenticity on the value of the workout program.
Cons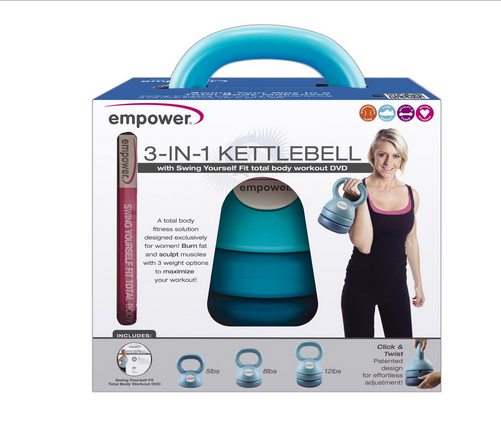 It is not very suitable for experience kettlebell users since the DVD upsell does not provide lengthy work outs something someone who is experience will find to be easy work outs. If you are looking for an alternative adjustable kettlebell, I would recommend Rocketlok 14- 20 lbs. adjustable kettlebell, check it out make the comparison.
Secondly, a user was concern that the screw lock mechanism may not last for a very long time. While this is a concern in 'imagination', I have not noted any actual complain regarding this mechanism at the time or writing this review. You can check out Empower 3-in-1 adjustable kettlebell on Amazon for updated information on price and ratings.
6) CFF Adjustable Russian Kettlebell Weights
Description
CFF 40 lb adjustable Russian kettlebell is a remarkable adjustable kettlebell that combines 7 weights in one convenient weight set. This kettlebell is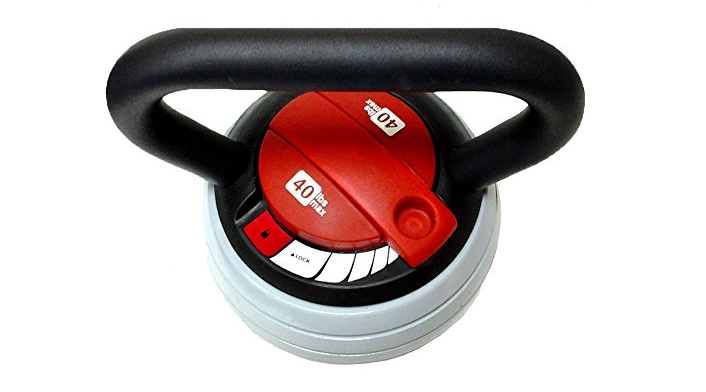 one of the best adjustable weights you can own. You can adjust the weight on CFF 40 lb adjustable Russian kettlebell by 10 pounds to a maximum of 40 pounds helping you scale up your weight within a few minutes of weight change. CFF 40 lb adjustable kettlebell is versatile allowing you to workout in many ways. You can use this kettlebell for nearly all the kettlebell exercises. The design of CFF 40 lb adjustable weight is an off-balance design that creates a demand for exercises and allows you to work out a wide range of lifts, swings and any other extreme kettlebell exercise. Let us now examine the features of this kettlebell and what sets it apart from other adjustable weights.
Summary of Features
The handle dimensions are 28.5mm, 6.75 inch's wide inside the handle making it one of the widest adjustable kettlebells; this allows you to carry out both hands workout without straining or injuring your hands.
CFF 40 lb adjustable Russian kettlebell weights quickly adjust from 10 lb to 40 lb. The simplicity of weight change sets this weight in a class of its own. It is design to allow you to simply pull the lock, twist to remove and add weights.
The weight range saves you a great deal of money since you would have to spend more than $200 to acquire individual standard kettlebells that match up this adjustable weight. The kettlebell is also a good for those people with limited space. Just like other kettlebells it takes a small space and does not require a weight rack to store.
The handle is 10 lb in weight and can be an ideal way for beginners to start out with kettlebell exercises for beginners.
Has a rubber base that protects your floor against damage when you place the kettle on the ground during workout.
The color of is black, grey and red
Let's now look at the pros and cons of CFF 40 lb adjustable Russian kettlebell to help you make an informed choice when placing your order on Amazon.
Pros
Saves spaces and money just like any other adjustable kettlebell, if you are new to kettlebells check out the detailed comparison of Adjustable Kettlebell vs. Standard kettlebell
A weight increase of 10 lb is ideal for those experienced kettlebell lifters who want to build serious weight resistance.
Wide and firm handle that allows both hands kettlebell workouts
Easy to change weight by the simply designed lock making it easy for even beginners with minimal or no prior experience with adjustable kettlebells.
Rubber base provides a great cushion to avoid floor damage increase of accidental weight drops on the floor.
Cons                                                                                 
By the time of writing this review the customer reports and feedback had minimal complains about CFF 40 lb adjustable kettlebell, the only complain was the handle rotates when you are lifting something that might cause blisters but with kettleguard this should not be a problem
7) PowerBlock Kettle Block  
Description
PowerBlock kettle block is a great adjustable kettlebell that revolutionizes the design of the traditional kettlebell to assume a block shape. The block shape makes PowerBlock kettle block popular in the marketplace since it unique and compact. This kettlebell also comes in two weight categories the 20lb PowerBlock kettle block and the 40 lb PowerBlock kettle block.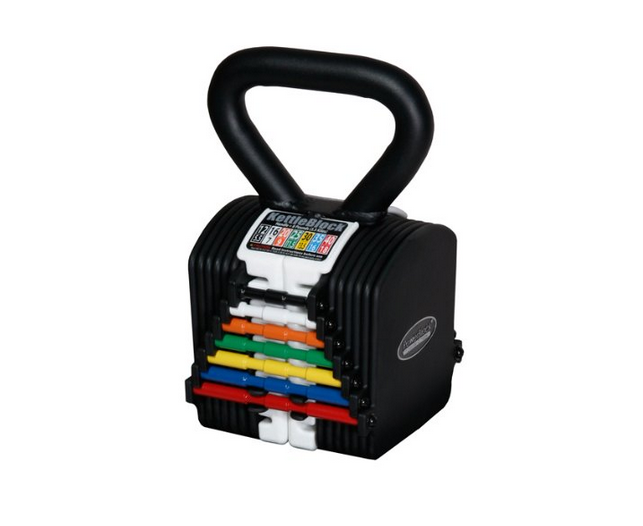 You can choose either on Amazon as you place your order. Let us now look at the features of this weight and highlight the pros and cons of owning a PowerBlock kettle block.
Summary of Features
This adjustable kettlebell has a weight range of 5 pounds to 20 pounds
The color of PowerBlock kettle block is black and white
When you buy PowerBlock kettle block from Amazon, it will replace about 5 normal kettlebell in the space as well as the money. You can get this adjustable kettlebell for a discounted price helping you save a great deal of money.
PowerBlock kettle block 20lb adjustable kettlebell is designed with a block shape with weight increment of 5 pounds, 8 pounds, 12, 16 and maximum of 20 pounds.
The company that makes both PowerBlock kettle block 20lb and PowerBlock kettle block 40lb offers users a lifetime HOME USE warranty something that is unique from other adjustable kettlebells. It is therefore one of the best adjustable weight for your home since it not only comes with the warranty but also has all the weight you need for home workout with any of these top 20 homework kettlebell DVDs.
With the PowerBlock kettle block you will replace about 5 kettlebells that range from 5 pounds up to 60 pounds in terms of space. This saves you a great deal of space especially for those users who are living in an apartment where the space is limited.
The handle is very wide and fit for both single and double hand kettlebell work out.
Has an expansion pack that allows you to add some little more weight (15lb extra) if you need to add weight to your work out. If you still want something heavier beyond the 40 lb PowerBlock kettle block, you should consider MIR Pro Adjustable Kettlebell or Kettlebud adjustable kettlebell since they both can allow you to rake up to 80 pounds for the latter up to 100 pounds or more!
Pros and Cons of PowerBlock kettle block
Let us now closely examine the good and the bad of owning a PowerBlock hoping it helps guide you as you make your order for an adjustable kettlebell. Let's begin with the pros: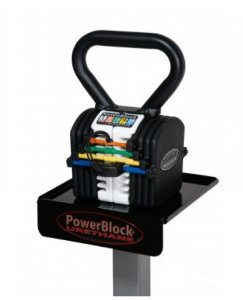 Pros
Saves you a great deal of space just like other adjustable kettlebells, if you want to work out at home and live in an apartment with limited or no space, this should be one of the adjustable weights you should consider.
Offers two different weight categories allowing users to choose from either the 20 pounds PowerBlock kettle block or the 4 pounds weight. This allows you to make a choice on your preferred weight range, for me I would go for the 40 pounds PowerBlock since I truly adore the 36- pound Stamina Adjustable kettlebell I own for helping me curve my abs as well as tone and build muscles.
Has a wide handle that allows you to do single and double hand kettlebell exercises.
Life time warrant for home use is a great customer boost to enable you makes the purchase without worrying about the quality of the product.
Cons
The only con for aboutPowerBlock kettle block is the lack of detailed information from the manufacturer. Another user noted that it may break up if dropped on a concrete floor.
8) Titan Fitness 5 lb – 40 lb Adjustable Kettlebell Weight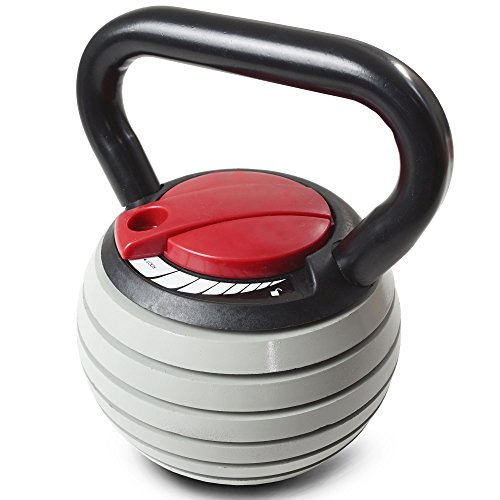 Titan Fitness adjustable kettlebell is one of the best adjustable weights made with cast iron weight plates and a flat bottom that makes it very easy to store. This adjustable kettlebell is made by Titan Fitness a leading sport and fitness equipment manufacturer here in the US. Titan Fitness adjustable kettlebell has a newly released fresh look of this 5 pounds to 40 pounds adjustable kettlebell. This weight is ideal for those users looking for a gym alternative and want vigorous kettlebell exercises that are targeted at working major muscles, burning boy fat and also building strength and endurance. Titan Fitness adjustable kettlebell is the second most highly rated adjustable kettle in the market. Here are the features of this weight:
Features of Titan Fitness adjustable kettlebell
The weight plates of this adjustable kettlebell are made of Cast Iron and are therefore durable and can be used both in the gym as well as at home. This is perfect adjustable kettlebell that can be used for group training.
This kettlebell is designed with a flat base than not only allows easy storage but very useful for those exercises that need a flat bottomed kettlebell.
Titan Fitness adjustable kettlebell has an extra wide handle that is specifically designed to allow easy grip and also use of two hands for double hands kettlebell swing. The handle width is 1.5" which is wide enough for both hands.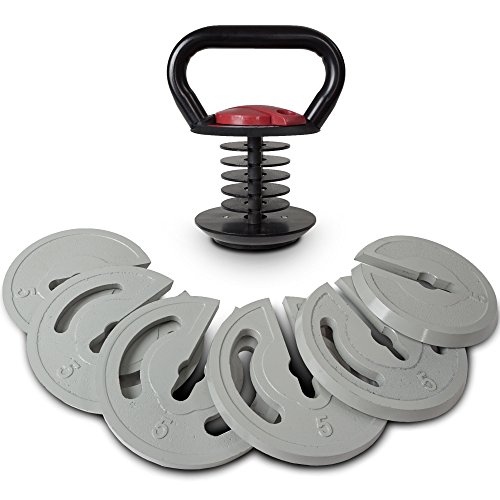 The adjustable weight ranges from 5 pound to a maximum of 40 pounds which makes this Titan Fitness kettlebell ideal for both beginners as well as advance kettlebell users. The adjustable weight is in 6 levels which is ideal for increased weight resistance training.
This adjustable kettlebell has up to 40 pounds weight yet it is the most affordable since it retails less than 100 bucks and currently it is discounted on Amazon –
Check out Titan Fitness Adjustable kettlebell on Amazon.
This kettlebell offers you a great deal of saving since you get the 40 pounds weight for that much and therefore I can assure you it is one of the best deals for adjustable kettlebells currently in the market.
The kettlebell is finished with powered on the exterior and the color is silver.


Pros of Titan Fitness Adjustable Kettlebell

This kettlebell has the best value for money compared to other adjustable kettlebells of the same weight that come at a higher price. If you are looking for a lowly priced 40 pounds adjustable kettlebell, look no further since Titan Adjustable Kettlebell is what you need.
Ideal kettlebell for both beginners and advanced kettlebell users
Plates are made of cast iron which is durable and will last the test of time
Has 6 adjustable weight levels that span from 5 pounds to maximum of 40 pounds
       Cons of Titan Adjustable Kettlebell
By the time of writing this review, there were absolutely no complaints about this weight. As always we recommend our readers to check out any updated information regarding this specific kettlebell from Amazon. We do our research about these kettlebells across all online stores and customer complains websites to seek the feedback from users.
9) Gold's Gym Extreme 20 lb Adjustable Kettle Bell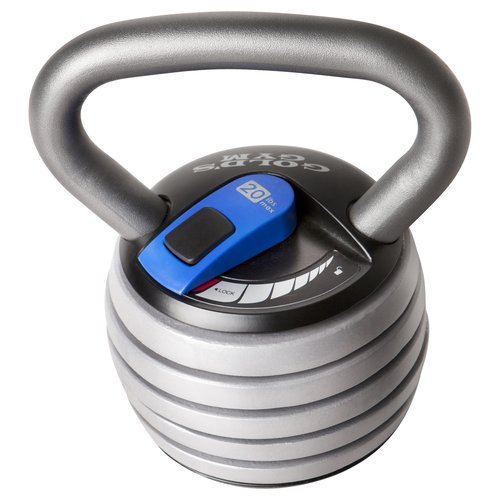 Gold's gym adjustable kettlebell is a great adjustable weight kettlebell that is designed with 3 pounds weight plates. Gold's gym adjustable kettlebell is ideal for light exercises as well as advanced kettlebell exercises. You can use this adjustable kettlebell at home for your daily workout as well as group kettlebell training. With this kettlebell from Gold's Gym beginners can easily scale up their weight resistance to become kettlebell professional.
If you are looking for an adjustable weight that comes with a training DVD, Gold's gym adjustable kettlebell should be one of your considerations. If you are starting out with kettlebells, this adjustable kettlebell is right for you since it's not very heavy and the price is very affordable. Here are detailed features of Gold's gym adjustable kettlebell:
Features of Gold's Gym Adjustable Kettlebell
This kettlebell is designed with five 3 lb weight plates that allow you to increase the weight as you workout
The handle of Gold's gym adjustable kettlebell is 5 lb in weight and is suitable for beginners since they can use it for startup kettlebell exercises.
This adjustable kettlebell is shipped with a 20-minute workout DVD included as a great way of helping you get started with kettlebell training.
Gold's gym adjustable kettlebell also comes with an exercise chart included to help you keep the focus on your daily kettlebell exercises.
The weight range is from 5 – 20 lbs and you can quickly and easily adjust the weight plates since the safety pin is very easy to adjust.
Gold's gym adjustable kettlebell features a SpaceSaver® Design that allows you to have maximum grip on the kettlebell handle that is also very comfortable.
The exercise chart and the workout DVD included in the sale of Gold's gym adjustable kettlebell is a great additional support for kettlebell beginners who want to work out at home and have no idea on where to start. If you buy this kettlebell you may not require spending more money on any of these top 20 kettlebell training DVDs.
Pros of Gold's Gym Adjustable Kettlebell
This adjustable kettlebell is suitable for kettlebell beginners since it has an easy weight adjustment system good for cardio and whole body exercises.
Free Kettlebell exercise chart and 20 minute workout DVD are a great addition that is included with Gold's gym adjustable kettlebell
10) Fitness Gear Adjustable Kettlebell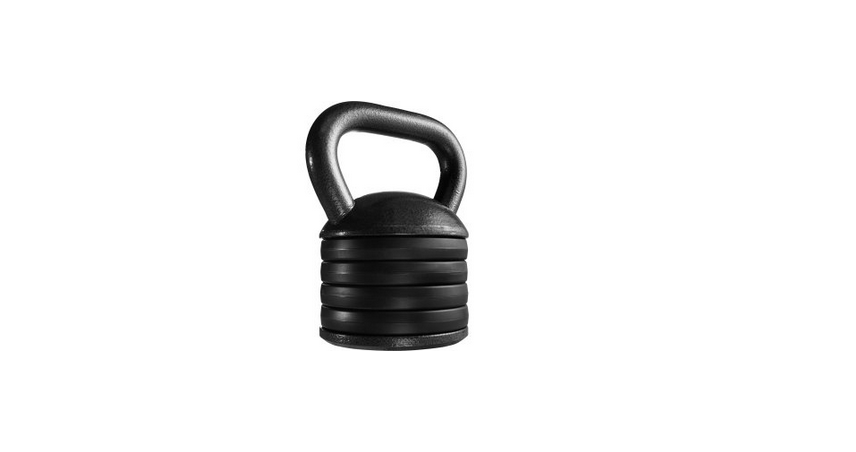 Fitness Gear Adjustable kettlebell is a perfect kettlebell for home workout since it has a wide range of weight from 20 pounds to 50 pounds. If you are looking for a versatile adjustable kettlebell, this kettlebell from Fitness Gear should be your choice. You can use this adjustable kettlebell for building strength, for cardio exercises as well as weigh loss exercises. Fitness Gear Adjustable kettlebellis designed with 4 spacer disks that make easy for you to interchange with the standard weight plates. Fitness Gear adjustable kettlebell is also from a reputable fitness equipment company here in the US and you are therefore guaranteed that this is a high quality product.
Features of Fitness Gear Adjustable Kettlebell
Fitness Gear Adjustable kettlebell can be used as a multi-function strength and endurance training tool.
This adjustable kettlebell is made of cast iron and the exterior is powder coated with a great finishing for a lasting quality something that is unique for this adjustable kettlebell
Fitness Gear adjustable kettlebell provides you with a traditional u-bar handle for comfortable grip control during kettlebell exercises.
This kettlebell includes 20 lb kettlebell with removable spacer disks (15 lb top, 4 spacer disks and 5 lb bottom)
This adjustable kettlebell also Accommodates standard 2.5 lb, 5 lb and 10 lb plates (they are sold separately) and you can learn more from Amazon – Check out Fitness Gear Adjustable Kettlebell on Amazon.
This adjustable kettlebell replaces up to 10 of your standard kettlebells since it allows up to 11 possible kettlebell builds ranging between 20 – 50 lbs
Fitness Gear Adjustable kettlebell has a recommended maximum weight of 50 lbs total, this weight is Kettlebell + (3) 10 lb standard plates
Fitness Adjustable kettlebell is ideal for multiple upper body strength training, core exercises and body conditioning.
Product Dimensions are : 8.27″ L x 6.3″ W x 10.08″ H Product Weight is 21 pounds
When you buy this adjustable kettlebell, you should understand that you will have to buy the plates separately. This adjustable kettlebell is designed for those users who want a versatile product that suits their strength building kettlebell exercises.
Pros of Fitness Gear Adjustable Kettlebell
·

        

This is the most versatile adjustable kettlebell you will come across in the market.
·

        

Saves you on the space since standard kettlebells of the same weight as fitness gear adjustable kettlebell takes a whole kettlebell rack – see SPRI Kettlebell Rack
·

        

The four spacers that come with Fitness gear adjustable kettlebell can be filled with water and sand and act as weight for those users who don't have the weight plates. This is not the manufacturer's advice but from others users across all online sports stores that sell this adjustable kettlebell.

 

·

       

Very easy to interchange the spacers with the standard weight plates and therefore it is a very user friendly adjustable kettle.
Cons of Fitness Gear Adjustable Kettlebell
·

        

This kettlebell is sold separately with the weight plates something that might be relatively expensive for those users who don't have the plates or the budget for buying weight plates.
11) Kettlebell Kings 10 – 40 Lb Adjustable Kettlebell
Kettlebell Kings 10 – 40 Lb Adjustable Kettlebell is another adjustable kettlebell that is worth every dime since it offers users a wide range weight adjustment. The weight on this kettlebell ranges from 10 pounds to a maximum of 40 pounds with 5 pounds increment. Though Kettlebell Kings 10 – 40 Lb Adjustable Kettlebell is relatively a new comer in this kettlebell category, judging from other standard kettlebells from the same company, this kettlebell should be high quality. This kettlebell has also received a five-star rating across online store where it is sold and therefore we can conclude it's a good adjustable weight.  Let's look at the features of this adjustable kettlebell and find out, if it something worth considering for your home work out.
Features of Kettlebell Kings 10 – 40 Lb Adjustable Kettlebell
With this adjustable kettlebell, you can replace up to 7 standard kettlebells and therefore if you choose to buy it, you will save on the cost. The weights range is ; 10, 15, 20,25,30,35,40 pounds which is equivalent t to 7 standard kettlebells.
Kettlebell Kings 10 – 40 Lb Adjustable Kettlebell has a wide weight range that spans from 10 pounds to 40 pounds, this is very important since it allows both kettlebell beginners and experienced users to comfortably use it for different exercises.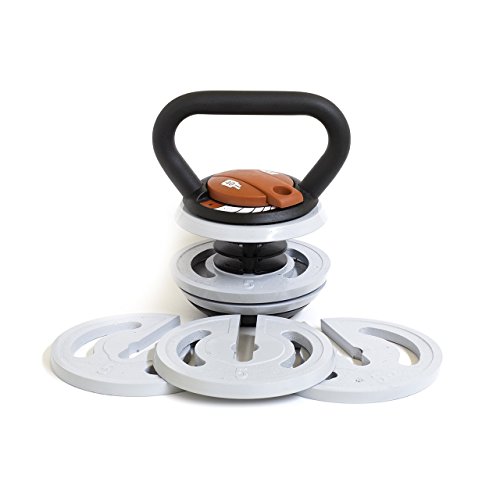 Has a smooth metal handle that is designed to allow maximum grip of one or two hands. The handle is also very comfortable since it is smooth with no bumps.
Has a very simple lever that slides with the touch of your finger allowing you to easily unlock and lock as you add or remove weight.
Kettlebell Kings the maker of this weight is a reputable company that makes other standard kettlebells and is a leader in the kettlebell industry.
Personal Experience with Adjustable Kettlebells
Since I acquired stamina 36 pound kettlebell, it has not disappointed since the maker is reputable and has a high quality product. Always check out the manufacturer's warranty and legal disclaimer as another consideration before buying a weight. These considerations should help guide you when you are shopping for an adjustable kettlebell.
Let us now look in details at each of these 20 best adjustable kettlebells currently available in the market. The top 10 best adjustable kettlebells you should consider buying are :

Top 10 Adjustable Kettlebells Rated by Quality and Users Reviews

Empower 3-in-1 Kettlebell Review

Empower 3-in-1 Kettlebell is specifically designed for women. This earns it  position on the list of the top 10 kettlebells for women. Empower 3-in-1 Kettlebell has a compact design and comes at a price that is affordable. For everyone who ever wished to own a kettlebell….

Mir Pro 83lbs Adjustable Kettlebell Review

Mir Pro 83 lb kettlebell  is unique and the first of its kind in the kettlebell marketplace. It is designed with a maximum weight of 83 pounds . You can use this kettlebell for a wide range of exercises. From my opinion it is as good as…

Rocketlok 24-36 Adjustable Kettlebell Review

Rocketlok 24-36 Adjustable Kettlebell is an ideal kettlebell for beginners at home since it is very easy to pack and unpack weight. If you are looking for an ideal home workout plan, kettlebell exercises help you keep fit while save you on a great deal of time….

Stamina 36-Pound Adjustable Kettlebell Review

 Stamina 36-Pound adjustable kettlebell Versa Bell is another great and highly rated kettlebell. This kettlebell is suitable for both beginners and experienced kettlebell users. This kettlebell like cast iron adjustable kettlebell and power block adjustable kettlebell …

CFF 40 lb Adjustable Russian Kettlebell Review

 CFF 40 lb adjustable Russian kettlebell is a great kettlebell that is developed by CFF-FIT. This model of Russian kettlebell is designed with heavy duty plastic that makes it durable. Just like the cast iron adjustable kettlebell it comes with a grainy texture to make handling of this easier.

Cast Iron Adjustable Kettlebell Review

Cast iron adjustable kettlebell is one of the best kettlebells that is worth value for money. This  kettlebell is a good kettlebell to use for home kettlebell workout routine. Cast iron kettlebell is designed with a very easy weight adjustment mechanism; you just need to press and turn the dial..

CrossBell Kettlebell Review

CrossBell Kettlebell is an ideal adjustable kettlebell for home exercises, fitness workouts to burn abdominal fat and work on your abs. It is my number #1 adjustable  kettlebell that is innovative, very portable, its simply the most affordable adjustable kettlebell….

Titan Fitness 5lb-35lb adjustable kettlebell Review

Titan Fitness 5lb-35lb adjustable kettlebell allows you to scale your kettlebell workout intensity. It also allows you to  build muscles as well as burn fat fast. This kettlebell is allows you to change your weight quickly and easily. From the low weight of 5 pounds to the maximum weight of 35 pounds.

PowerBlock Kettlebell Block Review

PowerBlock kettlebell block is a powerful adjustable kettlebell that is among the best kettlebells. This kettlebell is good for increasing the intensity of your workout.  The design is a block and you can either order the 20 pound PowerBlock kettlebell block or the 40 pound..

Kettlebud Adjustable Kettlebell Review – Uses Olympic Plates

Kettlebud adjustable kettlebell is another uniquely designed kettlebell.  It allows you to adjust the kettlebell weight by pulling out a set of pins. It uses the Olympic plates from 5 to 100 pounds weight. It is ideal for both beginners and experienced users
Notable Adjustable Kettlebell Reviews Videos
Ketttlebell Review Summary
Reviewer
Review Date
Kettlebell
My Personal Rating