Are you looking for a competition kettlebell set? If so, there's a ton of information you'll need to consider before buying your competition kettlebells. For starters the material, design and handle are different from a regular kettlebell. It's important you know how they vary so you don't end up with the wrong set. With so many kettlebell sets to choose from, it can be difficult to know which set offers the best value. In this guide,  I'll outline all the information you need to consider before comparing the best competition kettlebell sets currently on the market.
Competition Kettlebell Guide
Competition kettlebells are usually a one time purchase, so it's important to make sure you are buying the most suitable set first time round. Before we look at the factors you need to consider, let's start by understanding the difference between a regular kettlebell and a competition kettlebell.
Competition Kettlebell Comparison and Reviews
Competition Kettlebell Set Vs Regular Kettlebell Set
A competition kettlebell is a pro grade kettlebell that's built to very strict specifications. The material, weight, size, diameter, handle width and style are built to meet strict specifications that does not vary from one bell to another. That means that an 8kg kettlebell will be the same size as a 48kg kettlebell. The reason for this is to ensure consistency regardless of weight. Because a traditional kettlebell is made from cast iron or cement, the size often increases with the weight. This results in small differences in technique as competitors lift different weights. Consider the resting position of an 8kg kettlebell to a 48kg kettlebell if the size if different? It will likely differ from one competitor to another and is obviously not compliant with competition standards.
Competition kettlebells are usually made from a single piece of steel (not cast iron) and the handles are designed with a square finish. Regular kettlebells are often cheaper, meaning less care has been put into their production. A typical example would be the kettlebell handle not being blemish free as per the competition kettlebells.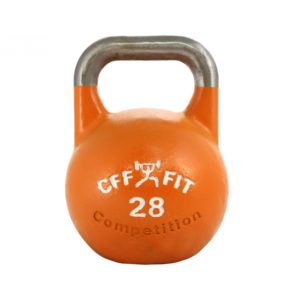 Benefits of Competition Kettlebell
There are numerous benefits of a competition kettlebell:
Made from steel which will last the course of time better than cement or cast iron. Also prevents chipping
Shape is designed to reduce injuries to forearms etc meaning there is no need to wear wrist protectors
Constructed from a single piece of steel: handles are often welded on a regular kettlebell
All kettlebells are the same dimensions meaning there is no need to alter your technique when using different weights
Handle size is 33mm
Square handle
Handles are bobble and blemish free
Flat bottom design stops the kettlebell from wobbling
Ergonomically designed to maximize repetitions
Color coded for easy identification
Professional grade standard
Competition Kettlebell Buying Guide – Factors to consider
Here's a list of factors you'll need to consider before buying your competition kettlebells.
Weight Range
A completed competition grade kettlebell set contains the weight increments listed below:
8KG
10KG
12KG
14KG
16KG
20KG
24KG
28KG
32KG
36KG
40KG
44KG
48KG
Note: Some International competition kettlebell sets contain weight increments from 8KG up to 32KG.
As you'll see the weights increase in increments of 2KGs from 8-16KGs and increments of 4KGs from 16-48KGs. Depending on your needs you can choose to purchase individual kettlebell weights i.e. for home or non professional use. Or, if you are in market for kettlebells to be used in competitions then you may need a completed set.
Price
Competition kettlebells are expensive. As already discussed the reason for the price hike is because the build quality and material (steel) is better. It's also unlikely that the manufacturers mass produce pro grade kettlebells so their costs are higher.
When it comes to buying the kettlebells you can purchase individually or as a complete set. The lower the weight the lower the price. As a guide an 8KG kettlebell will cost from $30-$70 dollars, a 48KG kettlebell can cost from $150-$300 dollars. It's possible to get a discount which increases as you add more kettlebells to your order. 
Material
Competition kettlebells are made from a single piece of steel. Unlike a regular kettlebell which are often made from cast iron or cement. Steel is a harder wearing material and offers better resistance against chips. If you're in market for a competition kettlebell your likely a serious kettlebell addict. When working out intensely kettlebells are often dropped from a height (at the end of a routine). It's important the main material (steel) can sustain being dropped from a height. Always be sure to check that the only material used is steel, you can find this under the product detail.
Handle
Pro grade kettlebells are made with regulation 33mm handles. This is the perfect size and is proven prevent slipping and reduce fatigue. The handle will also form part of the kettlebell body since it is made from the same piece of steel. Make sure you assess the imagery and lookout for welding around the handle edge. If you can see any sign of welding it's unlikely to be a professional competition standard kettlebell.
In terms of design, the handle is always a squarish shape. This makes it fairer for competitors and generally easy to complete a kettlebell workout using the correct technique. A rounded handle makes big differences on bigger and smaller hand sizes. Because of the square design, the handle is flat so the weight of the bell is evenly distributed when in motion.
Finally, the handle is coated with a powder-coat finish or comes with a guarantee of a bobble free surface.
Note: Traditional kettlebell workouts do not involve two handed workouts. Therefore the available space within the handle is much smaller compared to a regular kettlebell.
Manufacturer
Competition grade kettlebells are very expensive. This means it's important to ensure you are purchasing from a reputable manufacturer. Check online for customer reviews which give a good indication of quality and overall satisfaction. The following manufacturers come highly recommended:
Online Retailer
There's a wide range of retailers offering competition kettlebells. Amazon is a great place to start since they offer cheaper prices, free next day deliver and a better returns policy. You also get the same manufacturer warranty as you would when buying direct.
Best Competition Kettlebell Set
Personally I am a big fan of the CFF Kettlebells. They have more positive reviews than any other pro competition Russian kettlebell set on Amazon. Each kettlebell is color coded making it easier to identify one weight from another. CFF have also ensured the kettlebell weight is clearly marked on the kettlebell, believe me this makes a huge difference when you are tiring towards the end of a routine. As you would expect the handles are made to the regulation 33mm standard and are extremely smooth.
Whilst some of the other kettlebell sets are functionally the same, the reviews are not as positive as CFF. For example the RAGE Fitness Competition Kettlebell handles are prone to rusting which makes them unusable. Others are either not marked as clearly as the CFF set or color coded which can make identifying different weights difficult. Finally the build quality of the CFF is what you would expect from a professional grade kettlebell; this means that the paint coating doesn't come off since it is a premium based solution. Power Systems Competition Kettlebells are manufactured in China and covered with a power based coating which leave paint marks on hands and surfaces.
The only negative with the CFF Pro Competition Russian Kettlebells are they are only available from 8kg up to 32kg. If you're after something heavier checkout the Ader Pro-Grade Kettlebell Set.
CFF Pro Competition Russian Kettlebell Review
CFF Steel Competition Kettlebells are a professional grade range of bells available individually or in sets. If you're looking for a hard wearing kettlebell, that's easy to identify and is accurate to it's intended weight within grams, then look no further than the CFF Steel Competition Kettlebells.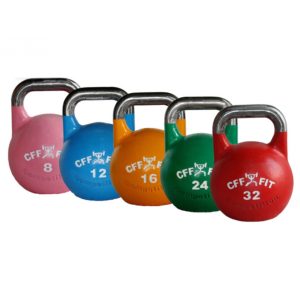 Product Features and Specifications
Manufacturer: CFF Fit
Weight Range: 8, 12, 16, 20, 24, 28, 32 kilograms (4 kg increments)
Weight accuracy: Guaranteed to be accurate to the intended weight within grams
Material: Solid Steel
Handle Finish: Unfinished steel
Body Finish: Color coded steel for easy weight identification
Handle size: Complies with he regulation 33mm
Bottom: Flat bottom (anti wobble design)
Price & Color
| Name | Color | Appx Price |
| --- | --- | --- |
| CFF Competition KB - 8kg Pro Elite | Pink | $62.99 |
| CFF Competition KB - 12kg Pro Elite | Blue | $73.99 |
| CFF Competition KB - 16kg Pro Elite | Orange (Light) | $93.99 |
| CFF Competition KB - 20kg Pro Elite | Purple | $114.99 |
| CFF Competition KB - 24kg Pro Elite | Green | $130.99 |
| CFF Competition KB - 28kg Pro Elite | Orange (Dark) | $142.95 |
| CFF Competition KB - 32kg Pro Elite | Red | $173.99 |
| CFF Competition KB Set - Complete (1 each) | N/A | $731.99 |
| CFF Competition KB Set - Complete (2 each) | N/A | $1,440.95 |
| CFF Competition KB Set - 500lb Mix & Match | N/A | $1,179.95 |
| CFF Competition KB Set - 1000lb Mix & Match | N/A | $2,174.95 |
My Verdict
What I like about the CFF Steel Competition Kettlebells is that they are made to an extremely high standard. Although they are more expensive than other competition kettlebells on the market, you get exactly what you need from the CFF Competition Kettlebells:
They are guaranteed to be accurate to within just a few grams of the specified weight.
The handles are blemish free so there is no need to waste your time sanding down any rough bobbles.
Although most competition grade kettlebells are color coded; what I like about the CFF Pro Competition Kettlebells is that they are both color coded, and contain the actual weight (written in white paint).
The paint finish is not powder based so will not leave marks on the floor or in your hands.
Unfinished handle for better gripping.
33mm handle size.