Rep Kettlebells for CrossFit is another standard kettlebell, you can consider if you do not prefer adjustable kettlebells. Whilst I thoroughly compared the benefits of adjustable kettlebells over standard kettlebells, you may prefer a standard kettlebell to an adjustable type. Let us examine the features of this standard kettlebell and offer the best alternative of an adjustable kettlebell.

Features of Rep Kettlebells for CrossFit
This kettlebell is tastefully designed taking into consideration that it has a wide range of weight. Here are the features of Rep Kettlebells for CrossFit:
This kettlebell is designed with smooth handles, flat bottoms, painted color marking. It is hand-inspected at factory and before shipment to ensure the highest quality.
It is made with matte powder coating that provides superior grip compared to glossy enamel, and resists chipping. This allows users to have the maximum grip of this kettlebell during extreme kettlebell exercises.
It comes marked in LBS and KGS for easy conversion and to conform to CrossFit and Russian kettlebell standards.
The weight sizes of Rep Kettlebells for CrossFit are 9lb/4kg, 17lb/8kg, 26lb/12kg, 35lb/16kg, 44lb/20kg, 53lb/24kg, 62lb/28kg and 70lb/32kg. You can buy the set or buy a single kettlebell of your preferred weight.
The design of Rep Kettlebells for CrossFit is also compact since it is a single-cast mold for maximum durability, no welded on handles on this kettlebell.
Rep Kettlebells for CrossFit comes with a 90 day warranty backed by the Rep Fitness Customer Advantage.
Finally, the company behind this kettlebell is a real fitness equipment company with a retail store in Colorado that assures customers that if they are not satisfied the product will be improved. I quote "If you're not happy, we'll do our best to make it right".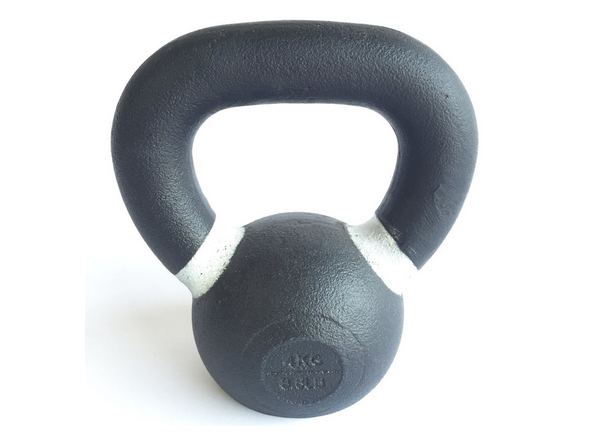 What I think about Rep Kettlebells for CrossFit
If I am looking for a standard kettlebell, I would put this kettlebell into consideration for the following reasons:
I personally, love the Fast Shipping since they say they ship all 24 kg and lower kettlebell the same day an order is placed or the next day. I love to get hold of a kettlebell immediately if possible! I am just a kettlebell fanatic.
I also appreciate the fact that this kettlebell manufacturer is a real fitness company in Colorado. It gives me more confidence since this kettlebell maker is real and a customer complains can be easily taken care of. I would consider this highly, if I am going to be buying the entire set of Rep Kettlebells for CrossFit.
On the product, I like it since it has a wide range of weight to choose from and also I like the finish that gives me a good grip as I carry on my strength training kettlebell exercises. This kettlebell is also recommended for both men and women something that is important to me since I train with a team. The 24 kg kettlebell is men's prescribed weight of 53 lbs, and 16 kg kettlebell is the prescribed women's weight of 35 lbs. My overall verdict about Rep Kettlebells for CrossFit is that it can be best fit for both seasoned kettlebell trainers as well as kettlebell beginners.
You can check out Rep Kettlebells for CrossFit on Amazon to see the latest price and place your order today